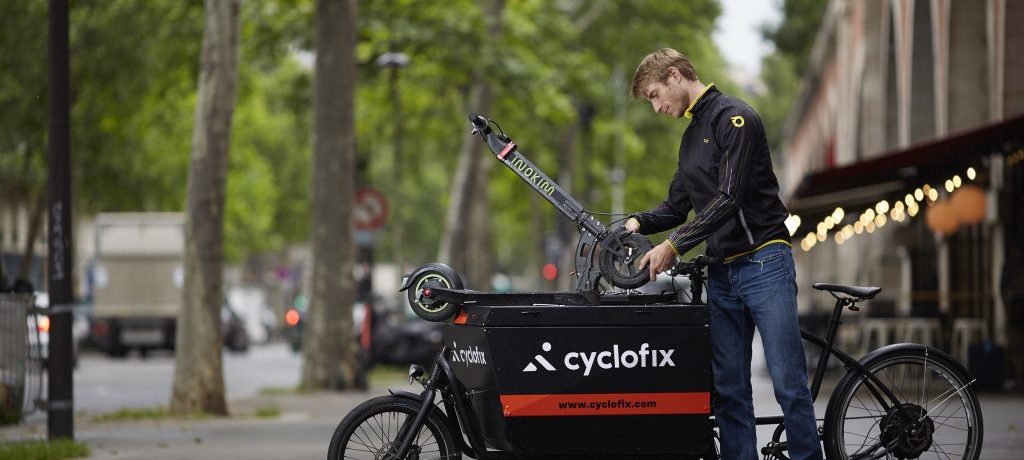 Cyclofix, leader de la réparation de vélo et trottinette en France, réalise une nouvelle levée de fonds de 5 millions d'euros afin d'accélérer son Cyclofix, France's leader in bicycle and scooter repair, has raised €5 million in new funds to accelerate its development in France as well as in Europe, to offer new services, strengthen its network of partners and recruit new talents.
After a first fundraising of 1 million euro in 2017, Via ID is proud to renew its trust towards Cyclofix, a mobile and urban solution repairing bikes and scooters alongside Decathlon.
This new step represents a real turning point in the history of this company, enabling it to accelerate its coverage in France, and soon deploying its services in new cities such as Rennes, Orléans, Grenoble, Montpellier or Nice, and opening its services abroad. After having recorded a significant growth since the end of the lockdown (x10 repair demands), Cyclofix is targeting European cities where the modal part of bike for daily journeys is important, or growing strongly – eg +34% of bike journeys in urban areas in France compared to 2019 according to Vélo & Territoires, +10% of bike journeys in London according to TFL datas or more than +44% of bikers in Bruxelles in 2020 according to Bruxelles Mobilité.
This fundraising will enable Cyclofix to strengthen its existing partnerships in France and Europe: the first one with Decathlon – which gives Decathlon's clients access to qualified and itinerant repairers for all kinds of repairs (bikes, electric bikes and electric scooters). The second one with Fnac/Darty which has been positioning itself for several years in the segment of urban mobility by distributing scooters and electric bikes. This collaboration led to the first Cyclofix workshop within the Fnac Ternes store (Paris 17th arrondissement) allowing to repair its soft mobility device. Cyclofix will also develop new partnerships for maintenance and after-sales service with several different brands investing in micro mobility such as Angell, Cowboy or Fuell.
Finally, this capital will enable Cyclofix to expand its network of independent repairers, to recruit new talent to lead this network, and to innovate by creating new services to promote the use of soft mobility.
Cyclofix is delighted with the support of its partners for micro-mobility, which is beneficial for France's major cities and their inhabitants
Urban transport has never been so much in flux as it is today, the demand for repairs is exploding and this fundraising will enable Cyclofix to deploy all the necessary resources in France and soon in Europe to best meet customer expectations.
The objective of this partnership is above all to reinforce the satisfaction of our customers by offering them a new experience. Until now, bike repairs are possible in store or in our different workshops dedicated to this. From now on, thanks to the partnership between Cyclofix and Decathlon, we will be able to offer a customized repair service, as close as possible to the need. The customer will be able to be repaired at home, at work or during his daily commutes
,
Head of city bike development at Decathlon
Maintenance is an essential link in the development of micro-mobility. Cyclofix combines its operational excellence with a high level of customer satisfaction, a winning combo to be the reference player in the sector. Via ID took part in the first round of financing in 2017 and we are very pleased to renew our confidence in Cyclofix and to welcome Décathlon by our side to best pilot this new phase of growth.