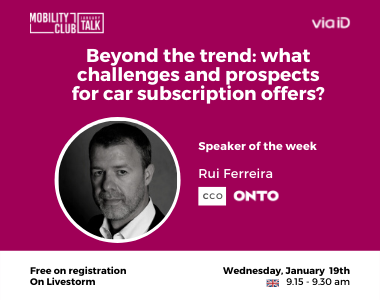 Beyond the trend: what challenges and prospects for car subscription offers?
The subscription economy is taking an increasingly important place in our daily lives: Netflix, Spotify, Amazon Prime… and is now expanding into the automotive industry.
A growing number of players are now offering car subscriptions, promising a digital, all-inclusive service with a transparent price and, above all, no commitment.
Leasing companies, short-term rental companies, OEMs… almost all of the traditional players of the automotive industry are entering this new market segment, while new startups have raised more than €700M from venture capital funds since 2015.
What are the underlying drivers of this emerging market? What needs do car subscription offers meet? What impacts should we anticipate on the automotive value chain? What are the different existing approaches and business models? And which are the long-term perspectives?
In January, the Mobility Club Talks will help you better understand the car subscription market!
This week, we welcome Rui Ferreira, Chief Commercial Officer at Onto, a UK-based all-inclusive electric vehicle subscription startup.