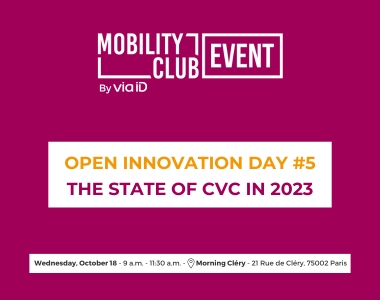 On Wednesday October 18, the #Mobility Club by Via ID will gather its members for the 5th edition of its exclusive Open Innovation Day, focusing on the following theme: ➡️ The state of Corporate Venture Capital in 2023.
The Mobility Club is hosting the 5th edition of its Open Innovation Day for its members: a meeting to discuss open innovation with those who practice it on a daily basis. What is the goal? To share best practices and exchange ideas on a subject as varied as it is unique.
For this year's event, we'll be tackling an exciting theme: the state of Corporate Venture Capital activity in the mobility sector in 2023.
After two record years in terms of amounts invested by European CVC players in mobility, and in the face of new market conditions (decline in financing for startups, macroeconomic context…), what are the trends observed and the prospects identified for CVC strategies in mobility?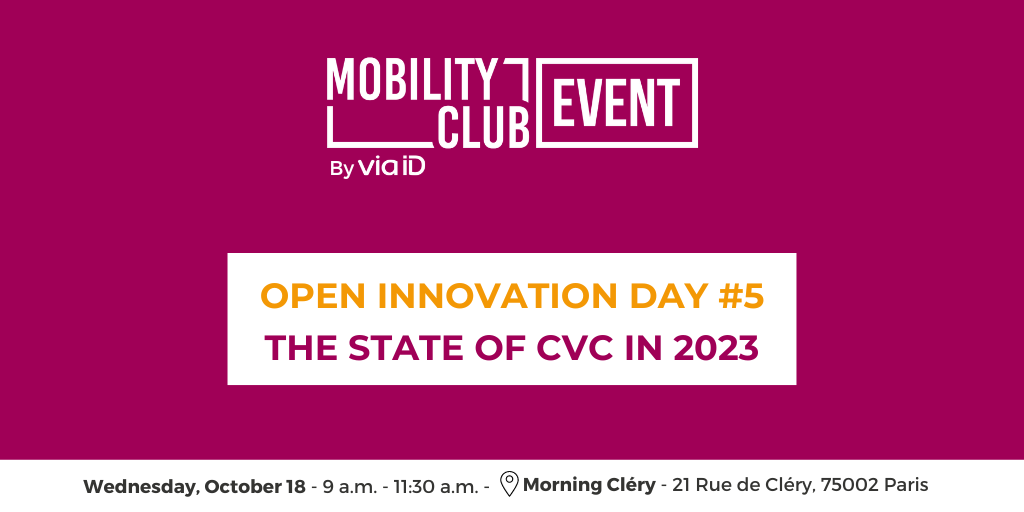 Timeline
☕ 9am to 9:30am: Welcome breakfast and introduction by Via ID
🎤 9:30 am to 10:15 am: Fireside chat "Trends and projections in CVC financing, M&A startups and venture building".
🙌 10:15 to 10:45: Round table "Adapting to today's environment to promote a successful HVAC strategy"
🤝 10h45 – 11h30 : Networking
Event venue: 📍 Morning Cléry (Paris 2e)
This is an invitation-only event, places are limited.
Would you like to participate? Not yet a member?