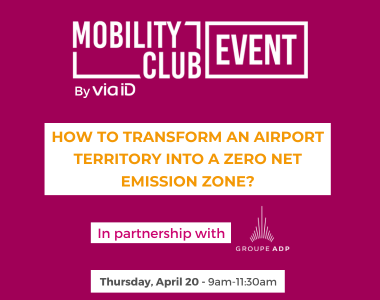 On Thursday, April 20, the Mobility Club will gather its members for an exclusive event, in partnership with ADP Group, on the theme "How to transform an airport territory into a zero net emission zone?"
Transforming an area to net zero emissions on the ground means reducing greenhouse gas emissions to such a low level that the remaining emissions are eliminated or absorbed by techniques. In 2019, more than 200 European airports have committed to reach "zero net CO2 emissions" within their area of responsibility by 2050.
This is naturally the case for the ADP Group, which has been committed for several years through concrete actions to limit the impact of its activities on global warming and to support the energy transition on airport platforms. It was one of the first airport operators to develop renewable energy solutions, such as geothermal energy at Paris-Orly and biomass and photovoltaic energy at Paris-Charles de Gaulle.
What is the goal of this event?
To understand the issues by proposing an inspirational format and share best practices to enable the transposition of shared methodologies. And also, identify the solutions developed to support this transformation.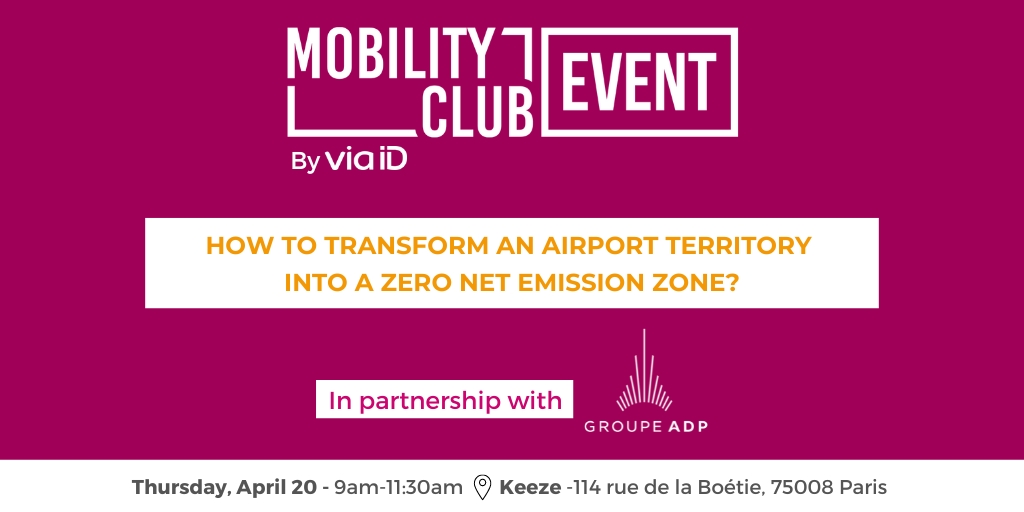 Agenda
9:00 am – 9:30 am: Breakfast and welcome speech by Perrine Duglet, Director of Operations at Orly Airport
9:30am – 10:00am: Keynote "How do territories organize themselves, in conjunction with local actors, to diagnose their mobility?"
10:00 am – 10:30 am: Keynote "What solutions to implement the decarbonization of commuting, in a complex environment and without affecting the employer brand?"
10:30 am – 11:00 am: Keynote sharing success stories of the implementation of new mobility services and new uses in decarbonized territories
11:00 am – 11:30 am: Networking
📍 Where? KEEZE Champs-Elysées – 25 Rue d'Artois, 75008 Paris
Do you want to participate?