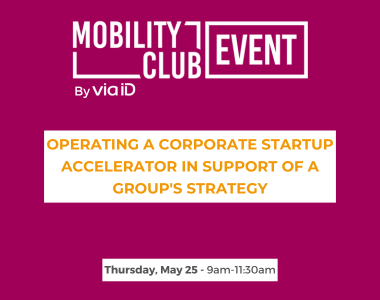 Next Thursday, May 25th, the #Mobility Club by Via ID will gather its members for the 4th edition of its exclusive Open Innovation Day, focused on the following theme: Operating a Corporate Startup Accelerator in support of a group's strategy. 
What is a Corporate Startup Accelerator?
A Corporate Startup Accelerator is an accelerator program funded and managed by a company. It allows the company to tap into the external ecosystem of startups to stimulate internal innovation through partnerships and collaborations.
During this Open Innovation Day, we will try to answer the following questions:
Why operate a startup accelerator, what are the goals? 
How to effectively operate an accelerator (organizational model, governance, performance measurement, etc.)?
Come and discuss this topic and share your open innovation practices over a coffee!
📍 Where? L'Impasse – 4 Cité Griset, 75011 Paris
This is an invitation-only event. You would like to attend or come with a guest?  ⬇️