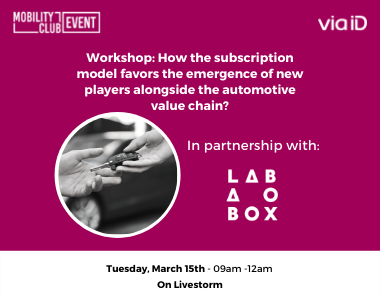 An exclusive Mobility Club workshop, organized in partnership with Lab Box, about the Car-as-a-Service trend. Throughout the workshop, we'll answer a key question: How the subscription model favors the emergence of new players alongside the automotive value chain?
The workshop format is 100% digital on Livestorm. During this workshop, you'll have the opportunity to learn, and connect with key innovative players in the CaaS segment, and ask yourself about the relevant prospects of the CaaS model on the automotive value chain.
Agenda
Part 3: Workshops (40 min)
– Topic 1: Will the OEMs transform into fleet managers?
– Topic 2: Do you see a difference about subscription models for an EV vs an ICE? Why?
– Topic 3: What are the Pros and Cons of asset-heavy vs asset-light models?
You'll have the opportunity to select 2/3 Topics. 
Part 4: Restitution & conclusion (30 min)
If you want to participate in this workshop but are not a member of the Mobility Club, fill out the following form: