Why Via ID bets on Beev, the startup developing the EV one-stop shop platform?
Via ID just announced its investment in Beev, leading its €1.5M round. We're thrilled to partner with Beev's team, and happy to explain, only for the Mobility Club community, why we believe in Beev's potential to become the leading one-stop shop platform for EVs.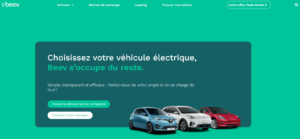 The EV market pain point: a complex, fragmented EV offer confusing for customers in their electric vehicle journey
It's worthless to mention there are more and more people willing to switch to EV. However, in Europe, only a few percent of drivers drive an electric car. Transitioning to electric mobility is not easy: complex car products, technical aspects, charging and driving ecosystem… The offer is super fragmented (splitted into dealerships, OEMs, charging station installers, green electricity providers…). Wannabee electric car drivers must deal with the right car to choose, according to their needs, find subsidies to finance it, find reliable and affordable charging solutions, the perfect service providers, and good insurance…
The customer journey must be reinvented.