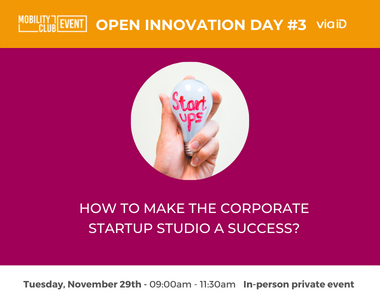 On Tuesday, 29 November, the Mobility Club will host the 3rd edition of its Open Innovation Days: an event series dedicated to corporate innovation. The concept? Corporate innovators sharing their experiences and insights, by answering a unique question, hence helping to benchmark good practices.
Together, we'll tackle the following question: How to make the corporate startup studio a success? 🚀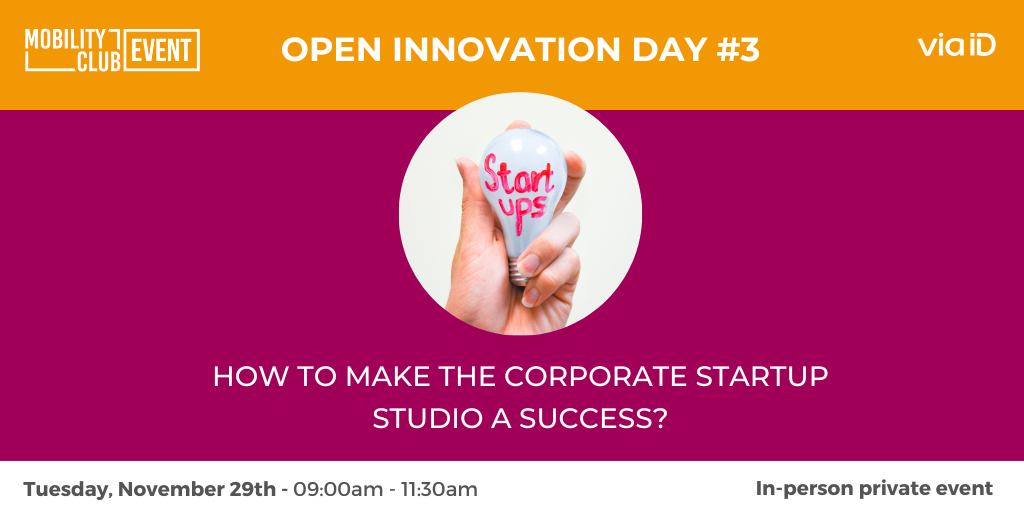 The concept of the Open Innovation Day? Corporate innovators share their best practices and experiences on a common topic.
For this 3rd edition, Hyundai Motor Group and Kamet Ventures will jump on stage to talk about:
1) Which startup studio model(s) to support an innovation strategy?
2) What are the key success factors for a corporate startup studio?
We already discussed about the Open Innovation (with Hutchinson, Groupe ADP, Groupe IMA), the Corporate Venture (with EDF Pulse Ventures, RATP Capital Innovation).
📅 Agenda
– 9:00 Welcome breakfast
– 9:30 Keynotes (+Q&A)
Hyundai Motor Group
Kamet Ventures
– 10:30 Networking

– 11:00 End of the event
📍 Where?
Keeze – Le Pavillon (114 Rue de la Boétie, Paris 75008)
Please note this is an invite-only event, if you'd like to invite someone, please send me an email at [email protected] (places are limited, please confirm by accepting my invitation).
Previous Open Innovation Days:
Interested in participating?