GAYA : a mission-driven company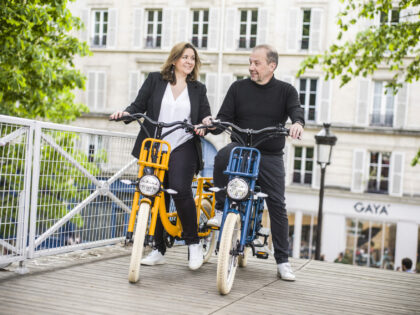 Founded in 2021 by Amélie Guicheney & Jacques Bonneville, GAYA makes new mobility accessible in a reasoned approach.
How? The company offers a new mobility concept with an affordable cargo bike, designed to ease the daily life of urban families. Customizable for each use.
Present in Paris, Lyon, Bordeaux and Nantes, the startup promotes French know-how through its affordable electric bike that comes in two lengths: The Compact and the Cargo.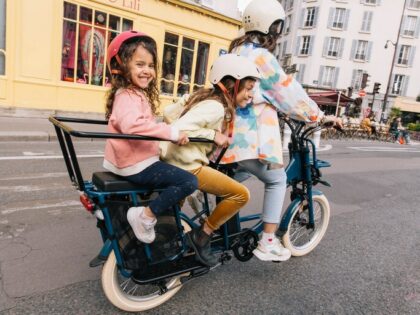 What is GAYA's Goal?  To become the favorite electric bike brand for urban families. So the company's bikes are:
Scalable, with 160 kg of payload and the possibility to take several passengers.
Secure, with a remote locking system. 
Safe, with their turn signals, horn, headlight and brake light.
Result: more than 1000 city dwellers won over in less than 9 months! In 2022, the startup even opened a workshop-boutique on the banks of the Canal Saint-Martin, allowing customers to try out and repair their bikes.
Jacques and I created GAYA with the goal of simplifying the lives of urban families and having a lasting impact on cities. Thanks to constant exchanges with our customers, we were able to design and adapt the bike to best suit their needs, while striving to maintain an affordable price.

Following the success of the first model, we are excited to be able to accelerate and deploy our vision more widely, including a component that is particularly close to our hearts: relocation.
,
Co-founder & CEO of GAYA
GAYA in a few figures:
2,5 M€
Of turnover  in 9 months
+1 000
 Bikes sold since the creation of GAYA
300 000
Km covered by the first GAYA bikes
65 tons
Of CO2 emissions avoided
A fund raising to deploy its activity in France and in Europe, and to relocate its production.
GAYA raised funds from Karmen, a leader in Revenue Based Financing for digital companies, which is supporting GAYA with €400K. And Via ID, Mobivia's investment fund and accelerator for new mobility startups, which invested €1.6 million and has been supporting the startup since its seed.
The opportunity for GAYA to reach its goal and position itself as the essential alternative for family mobility in the city.
More specifically, this investment will allow GAYA to: 
Accelerate its deployment in major French cities and, from 2024, in Europe. 
Relocate its assembly and part of its production to France. 
And finally, to develop a new range, in co-construction with its customers, scheduled for spring 2024.
We are proud to support GAYA through this round of financing. We met Amélie and Jacques at the beginning of GAYA and have since built a relationship of trust through regular interactions. We were immediately attracted by the complementary nature and professionalism of the founders.

I am firmly convinced that GAYA stands out from the market by offering a real bicycle solution: beyond the bicycle which is well designed, has a very reassuring side and a distinctive design and which can carry up to 3 children, the GAYA solution also offers maintenance through 400 approved repairers throughout France, as well as a geolocation solution to fight against theft.

The growth of the cargo bike market is certain, as this category of bike provides a real alternative to the car for urban families and thus contributes to more sustainable mobility.
,
Investment director of Via ID