Co-created by the CNPA and Via ID, the Moove Lab – the only acceleration program dedicated to autotech and mobility startups at Station F – welcomed the 10 startups that make up its 8th promotion on November 3, for a 6 months period.
The Moove Lab: the acceleration program that has been supporting mobility startups for over 4 years
Co-founded in September 2017 by the CNPA – Conseil National des Professions de l'Automobile – and Via ID, the 1st acceleration program dedicated to mobility in France aims to support the mobility and transportation industry and help develop the best mobility startups. In more than 4 years, the Moove Lab has supported more than 60 projects.
Last October, 10 startups were chosen among more than 110 candidates to join the 8th promotion of the Moove Lab for 6 months.
A promotion marked by the arrival of 3 new partners
After BMW Group France and the NextMove automotive competitiveness cluster during the previous batch, BCA expertise, Bee2Link and Opteven joined the Moove Lab's historical partners (Bridgestone, Club Identicar, CETRI, Cofidis and OPCO Mobilités).
Circular economy, connected vehicles, urban logistics, artificial intelligence… Discover the startups of the 8th promotion!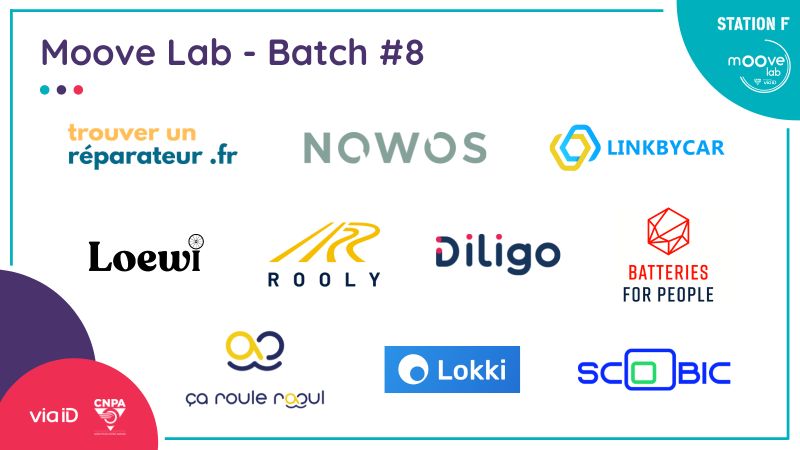 With this new promotion, the Moove Lab demonstrates that it is still supporting, 4 years after its creation, the innovative trends that cross the world of mobility and automotive services: connected vehicles, circular economy, urban logistics, new modes of consumption, decarbonized mobility. The presence of 2 international startups in the final selection also testifies to our ambition to place the Moove Lab as an important player on the European scene in the coming years. I would also like to thank our partners, historical leaders in the mobility and automotive industries, for their renewed commitment to the entrepreneurs, and particularly welcome the arrival of Opteven, BCA Expertise and Bee2Link.