Nowos, a Franco-Dutch company, repairs lithium batteries and extends their lifetime. The startup is part of the Moove Lab's 8th promotion – the only accelerator program dedicated to mobility and autotech startups at Station F, co-founded by Mobilians and Via ID.
Nowos au service de Nowos at the service of circular economy circulaire
Co-founded in March 2019, in the Netherlands, by 4 partners with complementary expertise and know-how around the lithium battery – Ambre Eppler, Prins Doornekamp, Jan bartels and Steven Bradshaw – Nowos participates in the development of more sustainable mobility through lithium battery repair.
How?
Thanks to a team of 33 committed people, via 2 repair units – one based in Amsterdam and another near Lyon (the French subsidiary was created in November 2020).
The lifetime of a lithium battery is measured in cycles, of which there are about 500. Depending on the quality and use, the lifetime can vary between 2 and 7 years: "For a food delivery application, for example, the battery is put to the test because it is exposed to the outside environment every day. It will be used to the extreme and will have reached half of its lifetime after a few months. An occasional application, for a weekend bike ride for example, will have much less impact on the battery," explains Ambre.
Nowos collects the battery when it stops working, the startup analyzes it and determines the reason – whether it is a faulty electronic part for example, whether it is hardware or software – and repairs it if possible: "It is very rare that batteries are at the end of their lifetime. If they are, Nowos is also a collection point for its customers who have regulatory obligations regarding recycling."
Their goal: to facilitate the development of the circular economy by repairing batteries and extending their lifetime.
For who?
Their solution is exclusively B2B. Nowos targets batteries and electric vehicles manufacturers (scooters, bikes, scooters), fleet managers, etc. The startup's clients include: Dott, Swapfiets, Niu.
"By outsourcing their after-sales process for battery management, customers benefit from cost and time savings. We also meet their need for support in terms of logistics – Nowos can collect a battery anywhere in Europe – safety and compliance. There is little expertise in Europe around lithium batteries and professionals have difficulty getting answers about what is and isn't possible." says Ambre.
How did they come up with this business model?
15 years ago, Ambre met one of her current partners who started a company that developed lithium batteries for industrial and automotive applications (electric and hybrid propulsion). While producing and marketing batteries, he realized that many professionals did not know what to do with those that no longer worked. The solutions on the market were not sufficient, not developed enough and very expensive. They wanted to go further together and created Nowos to support them in the afterlife and maintenance of their lithium batteries.

Their initial idea was to improve the recyclability of batteries. But this meant incinerating them: "Recycling is expensive for companies, so we wondered what value could be added to defective batteries. It was our first prospects who gave us the idea and helped us define our business model. We did a first test with them and we thought we could use our technical experience as a lithium battery manufacturer to repair them." Explains Ambre.
What is the added value of Nowos?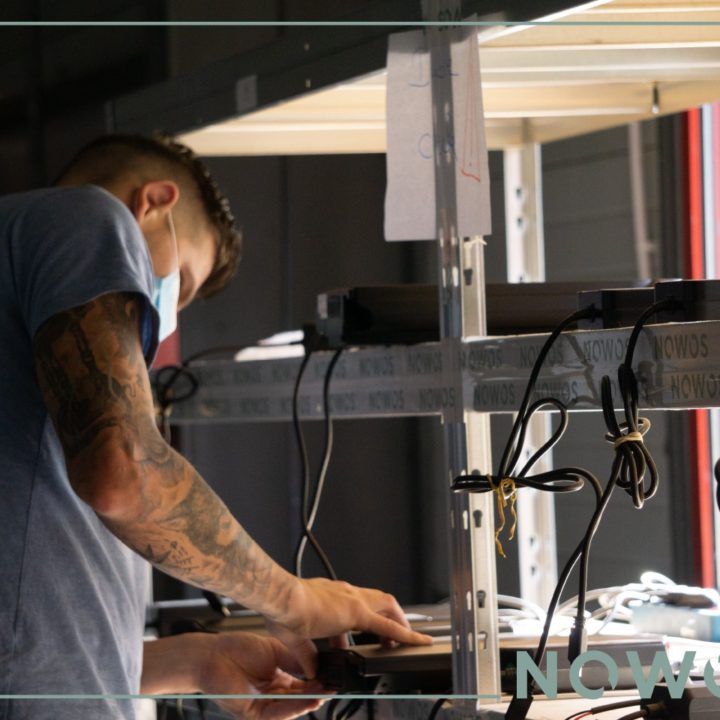 The startup does not face strong competition in its market and has the advantage of

having a team of experienced co-founders in terms of lithium batteries

: "Nowos is a young company with real know-how, proven technology and experience in managing large accounts. This makes us legitimate with our customers and allows us to work with corporates."
Nowos does exclusively volume B2B

and has industrialized battery repair in order to have competitive prices: "The goal is to pay less for a repaired battery than a new one. There must be a coherence between the fact of answering an obvious environmental and social need, and the economic aspect. We are offering an accessible solution, and this opens the doors of electric mobility to everyone."
Its European perspective:

the company works with customers who operate at the European level or have the ambition to do so, which allows Nowos to support  them easily and quickly.
The most important thing for us is to be committed and engaging by proposing projects. Making an impact, being helpful to the environment, and gaining the trust of our team and our customers are essential to the success of Nowos.
The Moove Lab: a challenge, an increase in skills and opportunities
It all started with the Mobility Club's Mobility Talks*, during which Ambre spoke on the circular economy subject. She was then put in touch with the Moove Lab's program manager: "It was an opportunity to challenge the project, to be trained by experts and to gain skills in areas that we don't master, to be confronted with other startups in an exclusive way, to share, to access an environment and an ecosystem dedicated to mobility, to be in contact with the program's partners, the actors of the mobility sector and therefore a potential network of customers." explains Ambre.
*Every month, the Mobility Club – the private circle of corporates, initiated by Via ID, who want to understand the key trends of mobility and smart city – plans a series of talks focused on a specific theme.
Recruitment, training, European expansion… the next steps for Nowos
Expand their business in Europe:

the startup wants to continue its international expansion – mostly in Europe – especially Germany, Italy, Spain and Portugal. "This construction of strategic choices will be done in partnership with our customers, so that we can be where they expect us the most."
An important social aspect:

the startup is currently hiring and also wants to increase its team's skills through training. "We already have a good team, well established, with good cohesion and very committed. We would like to have the financial support of the region to keep training it."
Facilitate and automate access to their solution:

"We want professionals and individuals to be able to go naturally towards this kind of solution, and for them to be able to have confidence. Projects will be launched this year to achieve this."